Jewelry and Style Icon: Elizabeth Taylor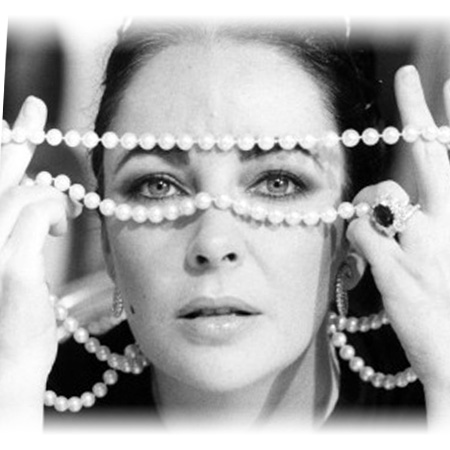 I have been agonizing over the right way to start this blog. The introduction should be witty, smart, and overflowing with elegance. It should be worthy of the lady whose immense jewelry collection and unparalleled sophistication in style inspired this blog. Sadly, I am too much of a geek for that. I find myself overwhelmed and out of my league.
So, without further ado, let's get started: I love Elizabeth Taylor. She is an icon. When it comes to jewelry, she is without an equal. Her collection is widely regarded as the finest personal collection of jewelry in the world. Her collection is in fact so impressive that she wrote a book called "My Love Affair With Jewelry." This volume showcases some of her most beautiful, unique, and treasured pieces, along with anecdotes for each one. It is my great joy to share a few of my favorites from Liz's collection.

In most photographs of Elizabeth Taylor, she is dripping with colossal jewels: diamonds, rubies, emeralds, and pearls. Some of her best known pieces are so familiar, they are nearly household names: the Cartier ruby and diamond necklace, earring, and bracelet suite from Mike Todd in 1957 and her magnificent 69.42 carat pear shaped diamond, formerly known as the Cartier diamond, but renamed the Taylor-Burton diamond after the couple purchased it in 1969. Elizabeth had this to say about the Taylor-Burton diamond: "Originally, I wore the diamond as a ring, but even for me it was too big, so we had design a necklace." The resulting sparkler is one of Liz's most recognized pieces.

I could spend hours effervescing about Liz's most recognized pieces, but where is the fun in that? Instead, I thought I'd open your eyes to some of her lesser-known pieces. Her taste was incredible, flawless, and one of the things she bestowed her affection upon was antique jewelry. Much of her collection was actually pre-owned, some going back hundreds of years in history (like the astounding teardrop La Peregrina Pearl, from sometime in the 16th century, although the ownership path is not entirely agreed upon by scholars). Understanding her appreciation for antique jewelry gives us a new perspective on Elizabeth Taylor. She wasn't just after the glitz and the glamour (although I think she was the undisputed queen of glitz and glamour). She truly loved jewelry as an art form and she felt as though she was simply a steward of these pieces of art. She even said this about her collection:
Some of the pieces are newer than others, yet each one has profound meaning for me. Above all, the importance of the jewelry is emotional and psychological, and I knew that I wanted to share my collection with others so that they could get a glimpse of the joys, the thrills, and the pure happiness that these beautiful creations have given me. I hope their presence and their magic will be passed on to others, loved but not possessed, for we are all temporary custodians of beauty. And I hope that in the future others will take care of this jewelry in a sharing way – but not too soon!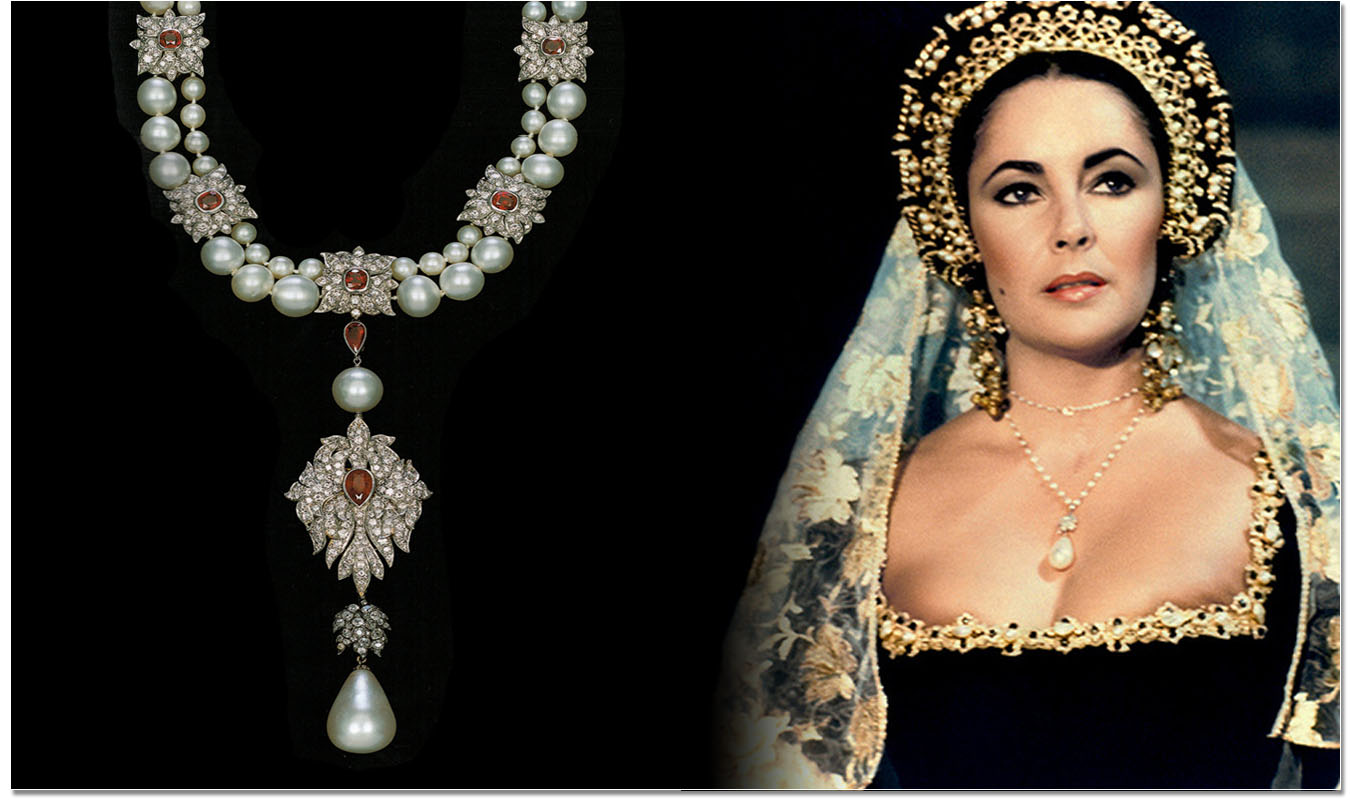 One of the historical pieces Liz had the honor of stewarding was the Prince of Wales brooch, circa 1935. This beautiful piece, which Liz first saw on the Duchess of Windsor during a visit, is an 18k yellow gold crown gathering three platinum feathers with pave-set diamond feathers, is the insignia of the Prince of Wales. She was married to Richard Burton at the time, who was Welsh. As a result, she found herself increasingly drawn to all things Welsh. She was so taken with the brooch that when offered by the Duchess to copy it for herself, Liz politely declined, defending the uniqueness of the piece. When the Duchess passed and the brooch was auctioned in a 1987 AIDS fundraiser (a cause close to Liz's heart), Elizabeth bought it for an astounding $623,333.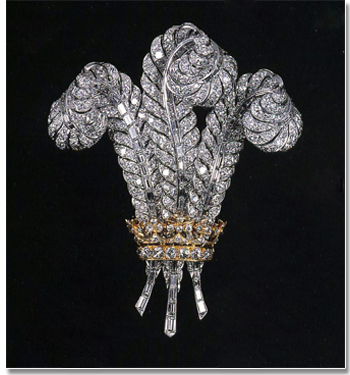 Born to American parents in London and spending the first seven years of her life there, Elizabeth always had ties to England. In 2000, she was recognized by Her Majesty, Queen Elizabeth II as Dame Elizabeth, Commander of the Order of the British Empire. For this great honor, which Liz called "…the most exciting day of my life." Liz wore the Van Cleef & Arpels flower and butterfly earrings she designed for the occasion. Originally, the earrings were just the flowers. Liz gave them to a friend, who gave them back to her as she didn't wear earrings much. When planning her look for the Dameship ceremony, Liz took the earrings to Van Cleef & Arpels, which is where they came from initially, to have them made into "…long, dangly earrings." The resulting earrings are, "Each of a carved coral flower with circular-cut diamond center cluster, suspending a graduated line of circular-cut diamond and yellow sapphire butterflies, spaced by cultured pearls and enhanced by circular-cut diamond collets, mounted in gold."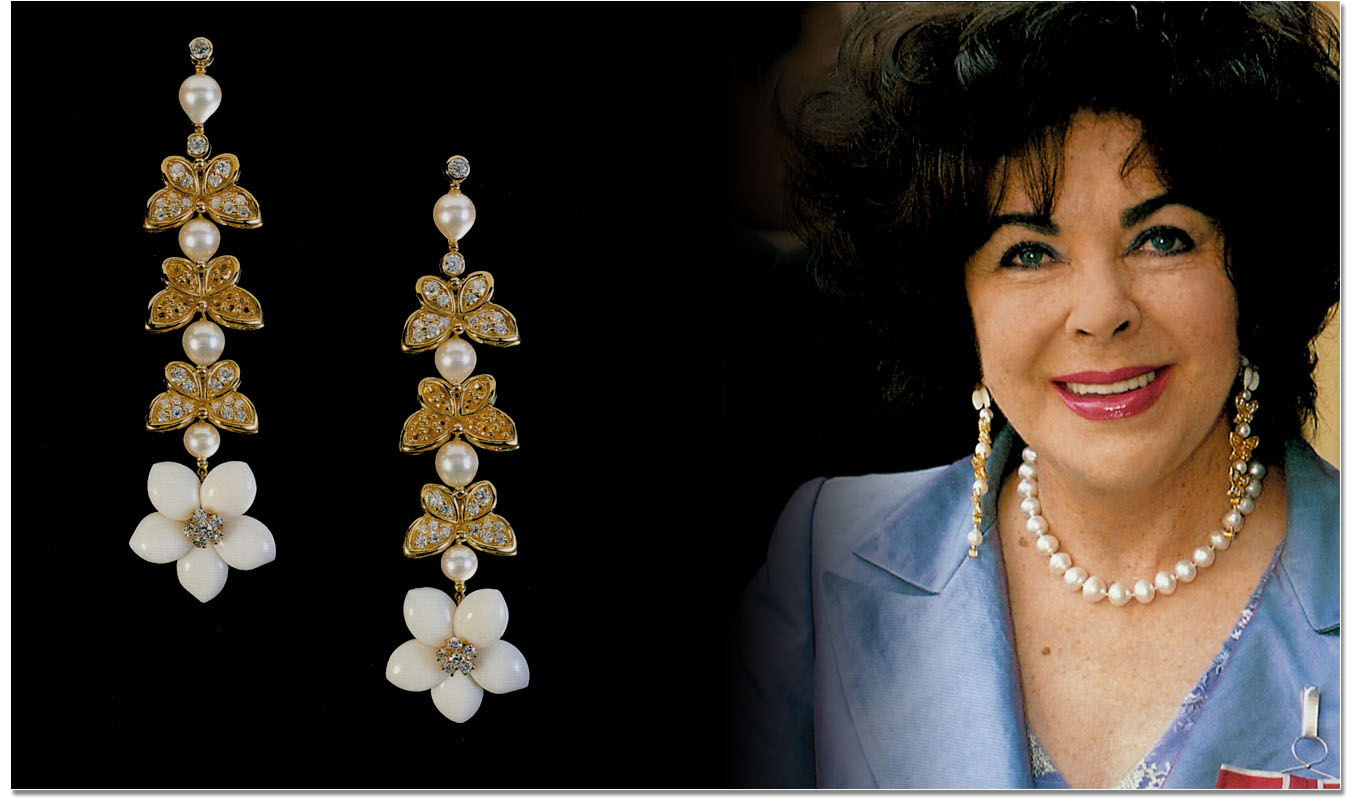 The last antique piece I want to share with you is a departure from what you might think of as a Liz-like piece. The King Farouk bracelet, circa 1925, is from the collection of King Farouk of Egypt. It was purchased by Richard Burton and Elizabeth Taylor at auction. The most mesmerizing feature of this piece is the hieroglyphics. A falcon, ox, seated human, and a sphinx are formed with buff-top (not faceted) gemstones. The index of "My Love Affair With Jewelry" has this to say about the stunning bracelet:
Of Art Deco Egyptian revival design, composed of five pierced pave-set diamond plaques, three depicting a buff-top calibré-cut ruby, emerald, and sapphire falcon, the other three similarly set with an ox, a seated figure, and a sphinx, enhanced by calibré-cut sapphire trim and baguette and bullet-cut diamond accents, mounted in platinum.

Diving further into Liz's jewelry box, beyond the storied and previously-loved antique pieces, beyond her keen eye for design, we come to an antique-inspired piece. This is piece, which is one of my favorites, was given to Liz by Richard Burton on the occasion of her 40th birthday. Noted for its exquisite Art Deco design (for more on Art Deco jewelry, check out this blog), this Bulgari long sapphire and diamond necklace is called a sautoir. A sautoir is a long necklace, set with gems (and in Liz's case, obviously set with gems), usually with a pendant. This sautoir necklace could be worn as is to nearly brush the navel or doubled around the neck to become a fetching double stranded choker. When worn as a choker, the large Art Deco pendant is prominently featured just beneath the clavicle.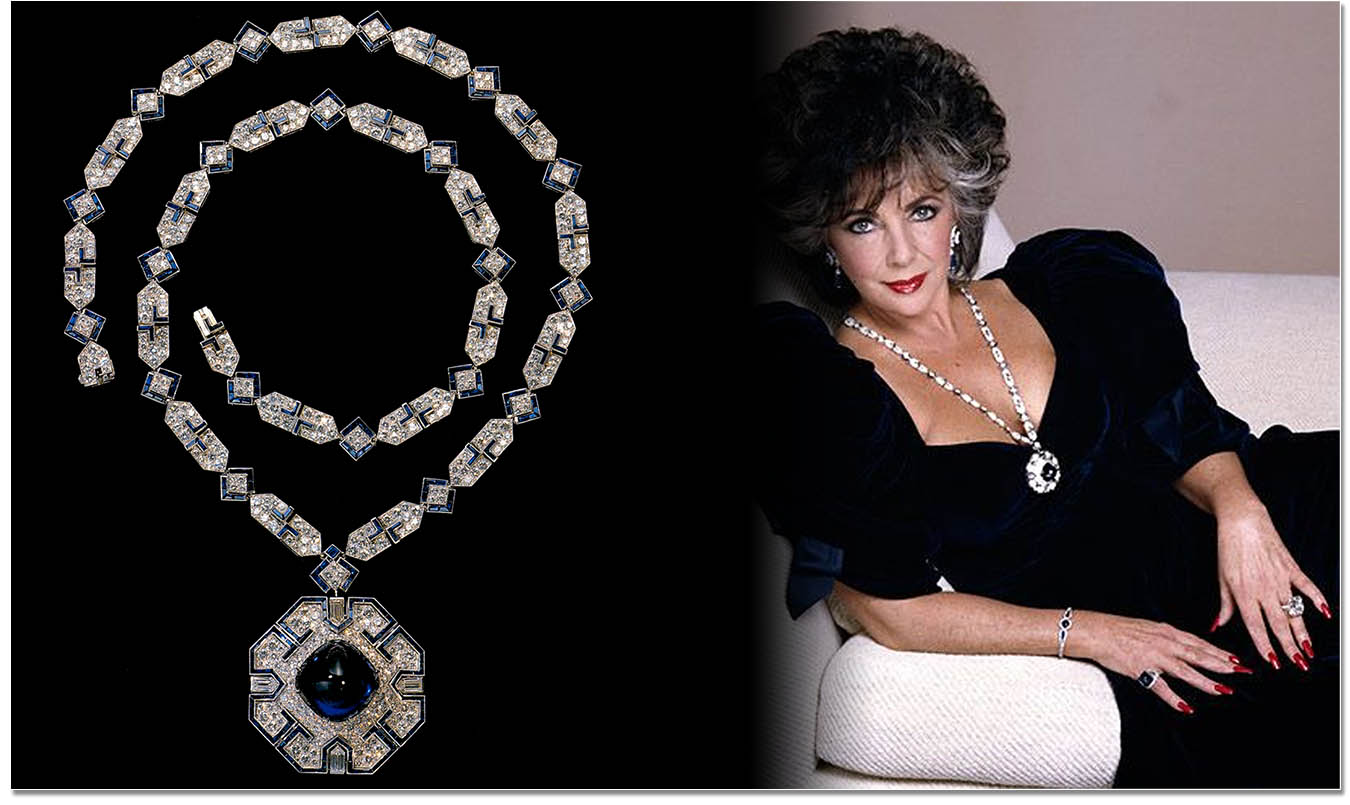 This sautoir is unique because its most obvious focal point is the 50 carat sapphire. This sapphire isn't something you're likely used to seeing, and not just because of its colossal size. This sapphire is a sugarloaf cabochon. A cabochon is a gemstone, often softer ones (like opal and moonstone for example), that is domed and polished to a smooth finish on one side and is flat on the other side (making it ideal for setting in jewelry). A cabochon does not have facets, like we tend to think of gemstones Cabochons make a very strong statement. They convey confidence and strength.
Because cabochons do not have any facets, the stone is literally laid bare before the beholder. All of the gems imperfections are more likely to be visible, as there are no facets or light refraction to beguile the eye. This means that a cabochon cut stone needs to be of very high quality. As you would imagine, the more perfect a stone is, the more expensive it is. The occurrence of high quality stones also decreases as the size increases. This means that a large sapphire, like, say 50 carats, is unusual already, and it is made more so by being of quality high enough to be fashioned into a cabochon.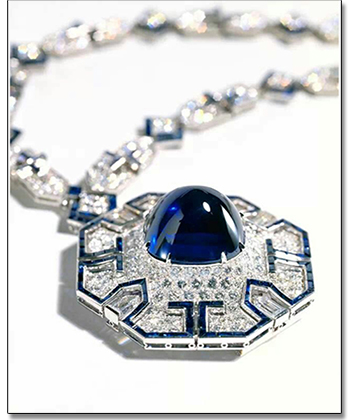 But there is more in this sapphire cabochon. This is a sugarloaf cabochon. A sugarloaf cabochon is the rarest type of cabochon. A sugarloaf is a high conical domed cut, almost like a squat little mountain.
The beautiful pendant can be removed from the diamond and sapphire pavé-set 18 karat white gold chain and worn as a brooch. The sautoir was not unique in that way. Many of Elizabeth Taylor's large pendants could be removed and worn as brooches.
To celebrate their engagement in 1962, Richard Burton gave Liz a gorgeous emerald and diamond brooch by Bulgari. The platinum brooch was centered around (literally) an 18 carat rectangular cut emerald (this cut is usually referred to as an emerald cut actually, because emeralds take so brilliantly to it). The emerald was surrounded by pear-shaped diamonds. Down the road, the couple purchased an emerald and diamond necklace (also by Bulgari) from which the engagement brooch could be suspended. A necklace to be worn with the impressive brooch needed to be equally impressive. Bulgari hit the mark on the head with their emerald and diamond necklace. Sixteen rectangular cut emeralds, graduated in size, are surrounded by haloes of round diamonds. In between each emerald isle is a quatrefoil motif, made with round and pear-shaped diamonds. This brooch and necklace are part of an entire Bulgari emerald suite Liz received from Burton. The Grand Duchess Vladimir Suite, as it is sometimes referred to, evolved to include stunning pear-shaped emerald earrings, an emerald and diamond bracelet, and an emerald and diamond ring.

Another part of her Bulgari emerald suite was a diamond and emerald floral spray brooch. This brooch wasn't fashioned to be worn on a necklace. Rather, Liz wore this stunner often as a hair ornament. In fact, she wore the platinum emerald flower brooch in her hair in a promotional poster for The V.I.P.s in 1963, In that same poster, she wore the pear-shaped emerald earrings that were a part of the same suite and which were also given to her by Richard Burton.

Liz often wore jewels in her hair. Although she engaged her significant collection in her decoration of her hair, she sometimes had to augment with loaned pieces from her favorite jewelers. Attenders of the Proust Ball (given by Baron and Baroness Guy de Rothschild in 1972) were asked to dress is appropriate period costumes, extending to the ladies wearing jewels in their hair. In addition to her own Grand Duchess Vladimir brooch, Van Cleef & Arpels permitted Elizabeth to borrow some jewelry, which her hairdresser wove into her elaborate hairdo.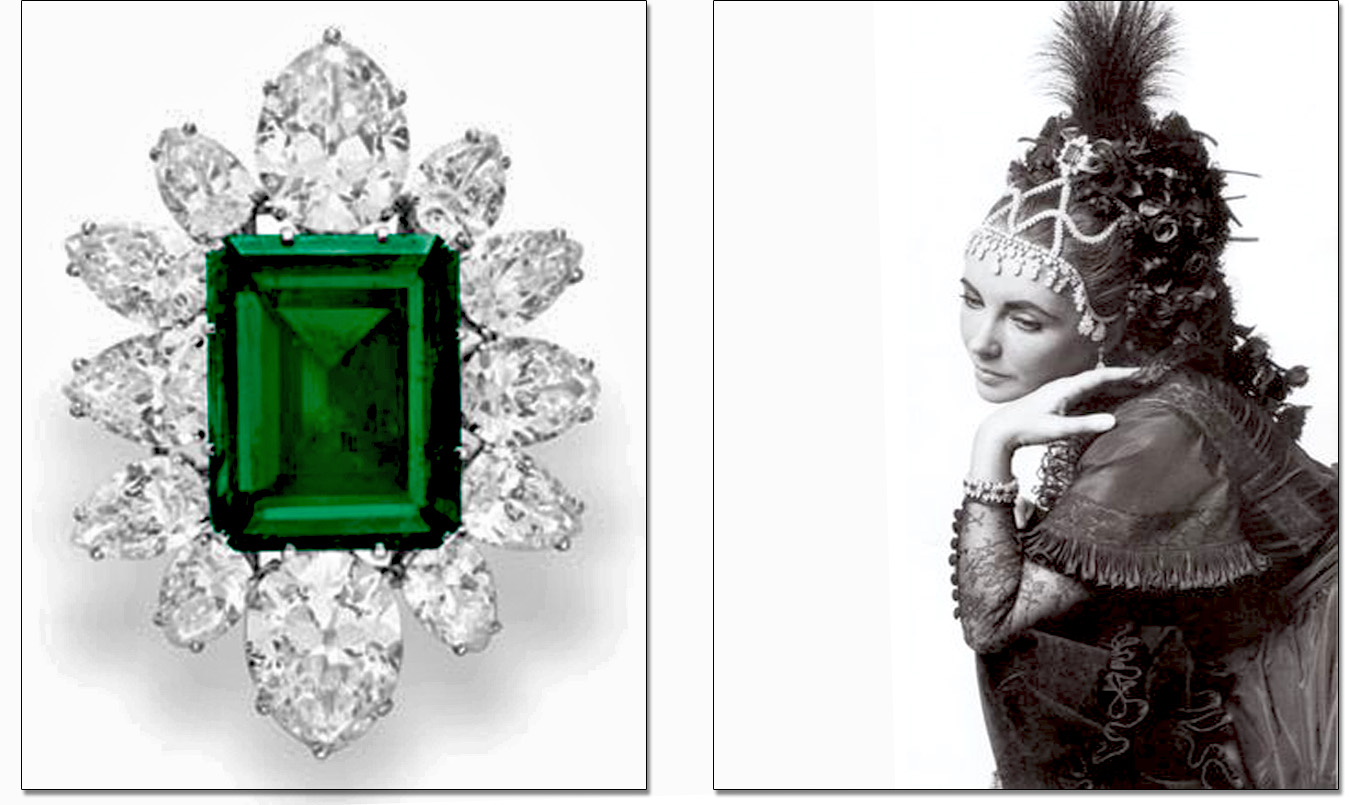 I don't think it's possible to overstate the majesty of Liz's jewelry collection. It was a source of joy for her, and for all who were lucky enough to be able to appreciate it. It's doubtful I will ever see any of her pieces in person, but seeing the photographs and hearing the stories in her own words makes the magic of the gems come alive. All of the quotes used in this blog were from "My Love Affair With Jewelry." Although sadly out of print, it is well worth the effort and cost in obtaining one. For the jewelry lover in you or in your life, this is an essential tome in any jewelry collection.
Lover of Liz,
Rebecca
Share This Page:
Comments