Bejewel Her Like the Queen She Is: Royal Wedding Jewelry Traditions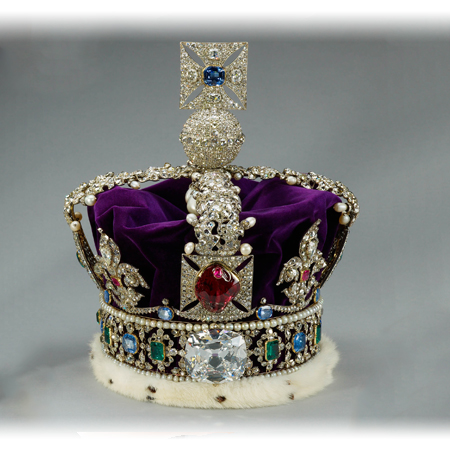 Just because America isn't ruled by a monarchy doesn't mean that you shouldn't treat your bride like the queen she is. For those who want a splash of royalty in their weddings, jewelry is a great place to start.
The British royal family has several distinct traditions when it comes to their nuptial jewelry. We'll start with the rings that start it all: the engagement rings. Queen Elizabeth II (the current queen) had an unusual engagement ring for her time, in that is was made exclusively with diamonds. At the time, that was fairly rare for a royal engagement ring, although all-diamond rings have become more common in the last two generations.
Up until then however, royal engagement rings made heavy use of colored gems. Sarah Ferguson's engagement ring featured a large center ruby and Alexandra's engagement ring made use of several different colored gems, like emerald, ruby, and turquoise.
The gemstone used most often in royal engagement rings though is sapphire. The tradition of Windsor brides wearing sapphire engagement rings started with Queen Elizabeth (the Queen Mother). Her grandson, Prince Charles, gave Diana a sapphire ring, which was given to Kate Middleton by Prince William. Since Prince William and Kate Middleton's wedding in 2011, copycat rings have been very popular.
If sapphires speak to your bride's heart, incorporate them into her engagement ring or wedding band. The Royal Lace Diamond Wedding Band is a beautiful combination of elegant styling and the royal sapphire tradition.
While royal engagement rings are impressive in their size and brilliance, British royal brides opt for a simple, elegant wedding band. They wear plain yellow gold bands. But these aren't just any gold bands. The rings are made from Welsh gold. Welsh gold is an exceptionally rare gold mined from just three mines in Wales.
Historically, the royal brides' rings were made with gold from the same nugget from the Clogau St. David's Mine. Precious little of this original nugget remains, less than one gram in fact. The wedding rings of Queen Elizabeth, the Queen Mother, and Princesses Anne, Diana, and Margaret were made from this same nugget. In celebration of her 60th birthday, in the 1980s, Queen Elizabeth was gifted another large nugget of Welsh gold from the Gwynfynydd Mine. From this gold, many other royal wedding bands have been made, including Kate Middleton's.
Welsh gold is very expensive, primarily because it is exceedingly rare, with the mines being essentially tapped out (it would not be financially feasible to mine the remaining gold ore). But beyond that, Welsh gold has a rich history in Britain, having been used in jewelry and other ceremonial instruments dating all the way back to the Roman Empire.
There are lots of options for the bride who wants the simplicity of her wedding band to stand out. To up the royalty feel, consider slipping a higher karat ring on her finger. Instead of a 14k yellow gold band, opt for an 18k band, like this Prestige Comfort Fit Band. Eighteen karat gold has a richer and deeper golden color that is really beautiful.
One of the most heartwarming of royal wedding traditions is the passing down of jewels. So much of the jewelry and tiaras that royal brides wear for their weddings or are given by their husbands as wedding gifts is made using gems and diamonds from heirloom pieces. Prince Philip used diamonds, including a three carat brilliant cut, from a tiara belonging to his mother to make Queen Elizabeth's engagement ring.
Instead of using stones taken from his mother's jewelry, Prince William instead gave his mother's engagement ring to Kate Middleton to mark the occasion of their engagement. His father did something similar with his second wife. Prince Charles presented Camila with a gorgeous emerald cut diamond ring that belonged to his grandmother.
Passing down family heirloom jewelry is a loving tradition that knows no bounds. If you and your fiancé will be celebrating your marriage with an heirloom or antique ring, you have lots of options for updating the look with a new wedding band. Check out our blog for some tips on marrying an heirloom engagement ring and a new wedding ring.
When it comes down to it, title or not, you know your lady is a queen. Take a cue from the monarchs across the pond. Colored gems, simple bands, and heirloom jewelry all help to foster a royal celebration of wedded bliss.
Share This Page:
Comments